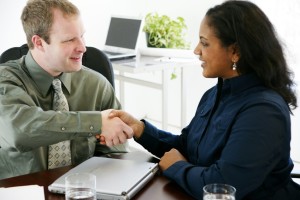 You have chosen to use Collaborative Divorce. You have taken the time to interview and select a Collaborative Divorce lawyer to represent you through the process. How can you work with your lawyer to get the most out of the process?
Share your goals for the process with your Collaborative Divorce lawyer
Each client is an individual. You have wishes and goals for your divorce that may be unique to you. A collaborative divorce lawyer hopes to help you meet those goals. Unlike some traditional divorce lawyers, Collaborative Divorce lawyers seek to help you meet your non-financial goals for your family as well as your financial goals. Only by thinking about and articulating your goals for your divorce can you hope to achieve them.
Be open and honest with your Collaborative Divorce lawyer
Your Collaborative Divorce lawyer will ask you to provide information about your assets, your liabilities, your income and your expenses. The Collaborative Divorce process does not use formal discovery methods to gather information. It is a transparent process and both parties must disclose all the relevant information voluntarily. Failure to do so in a timely manner will hinder the process and be counter-productive.
Provide your Collaborative Divorce lawyer with follow up
You will do most of your work in 4-way meetings with your attorney, your spouse and your spouse's attorney. Be sure to provide your own attorney with follow-up on how you think the process is going. Collaborative Divorce is an organic process that you can mold to meet your needs. Is the information coming in too quickly for you to process? Is it moving too slowly for your comfort? Do you have questions about how the law applies to your situation? Schedule meetings or phone calls with your attorney as often as you need.
Ask your Collaborative Divorce lawyer about incorporating other team members
As part of the Collaborative Divorce process, you have access to other team members to facilitate the process. Perhaps you need more emotional support through the process or more financial clarity. Perhaps you have concerns about how your children are faring. Please read my post on how and when to use additional Collaborative Divorce team members: http://vickivolper.com/why-add-additional-members-to-your-collaborative-divorce-team/