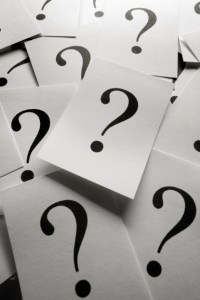 It always surprises me how many people hire me as their divorce mediator, or collaborative divorce lawyer, simply because of what they learn from my website. Don't get me wrong, I have a nice website. It seems to convey to people how much I enjoy my work and care about my clients.
Still, I am surprised that people do not do the same degree of research that they do when choosing a physician, dentist, or even a physical therapist. Most people choosing a health care provider will ask for recommendations from many people, or at least one person they trust, before making a decision.
I understand that many people want to choose a divorce mediator or collaborative lawyer before they have told friends and family that they plan to divorce. Once the process begins, however, it is not likely to be a secret for long. So why not tell a close friend or family member and get a recommendation?
In any case, many people do their own research. Here are some questions that should be asked of a mediator or collaborative divorce attorney:
1. Am I a good candidate for divorce mediation? For collaborative divorce?
An attorney with experience in non-adversarial divorce will help you understand whether mediation or collaborative divorce make sense for you. Sometimes, despite your best intentions, your divorce is not likely to be settled using mediation or collaborative divorce. See Qualities Needed for Success. Find out before you begin. Ask the question and listen to the attorney's answer, carefully checking for any bias on the part of the attorney.
2. If you are considering collaborative divorce, does the attorney agree to sign a Collaborative Divorce Agreement?
The essence of collaborative divorce is that both lawyers agree not to file any court motions or otherwise use adversarial divorce techniques. If either of the attorneys, or the divorcing couple, become adversarial, the process terminates and the husband and wife find new divorce lawyers to represent them. This gives the attorneys a strong incentive to settle the divorce collaboratively.
Some attorneys who call themselves "collaborative" refuse to sign the Collaborative Divorce Agreement. This attorney may be cooperative, but he or she is not truly collaborative. Keep looking for one who is.
3. Does the divorce mediator or collaborative lawyer have training in the area? Do they have experience?
Unfortunately, there are divorce lawyers practicing mediation and/or collaborative divorce who have never been trained in those areas of practice. Ask the question and listen closely to the answer. Many years of litigation experience is not a substitute for training or experience in the areas of divorce mediation or collaborative divorce.
Trust your Instincts
In addition to asking these practical questions, listen to your gut. Does this person seem caring? Why does the divorce mediator or collaborative divorce attorney do this kind of work? Will he or she take the time to listen to you? You will be spending some time with your divorce mediator or collaborative divorce attorney and discussing intimate matters. Make sure are comfortable with the lawyer as a person.